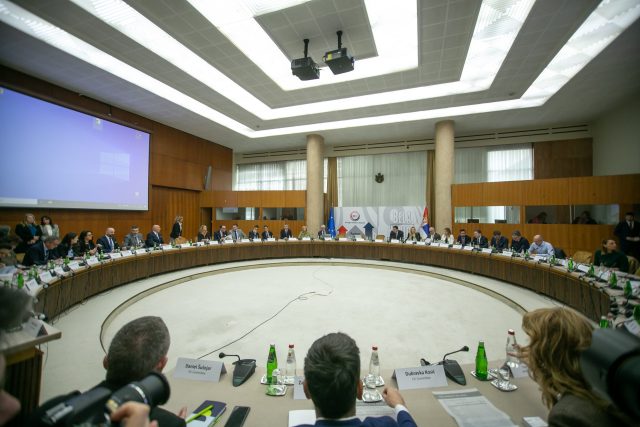 At the meeting of the highest representatives of the Government of the Republic of Serbia and the Council of Foreign Investors (FIC), in the presence of the Prime Minister of the Government of Serbia, Ana Brnabić, today in the Palace of Serbia, the jubilee 20th edition of the "White Book" for the year 2022 was presented with recommendations aimed at improving the economic environment and the quality of life and standard of citizens of Serbia.
According to the opinion of the Council, Serbia's key priority is the intensification of negotiations with the EU on its membership status, as well as the harmonization of domestic regulations with European standards, the return of inflation to the target corridor, the completion of the restructuring of infrastructure companies, as well as the optimization of the fiscal burden and public expenditures in order to prevent growth of public debt of the country.
The Council of Foreign Investors awarded the highest score for progress in the field of digitization and electronic business, and the pharmaceutical industry and the fight against illicit trade also took a high place.
This year's "White Book" contains 372 recommendations in priority areas such as: taxes, labor legal relations, digitization and electronic business, real estate and construction, the fight against illegal trade and inspection supervision, food and agriculture, bankruptcy, foreign exchange business, pharmaceutical industry and for the first time the publication included the field of hospitality and tourism.
Dubravka Kosić, Ph.D., participated in the development of recommendations for the improvement of this area, partner of K&F Advokati and vice president of the Council's Committee for Tourism and Hospitality.
The key focus of the Board for Tourism and Hospitality is on improving the regulatory framework, but also tourism management and improving the cross-sectoral government approach, including innovative solutions and effective coordination of all goals in order to achieve a common vision of improved competitiveness of the destination.
You can download the "White Book" edition for 2022 here.