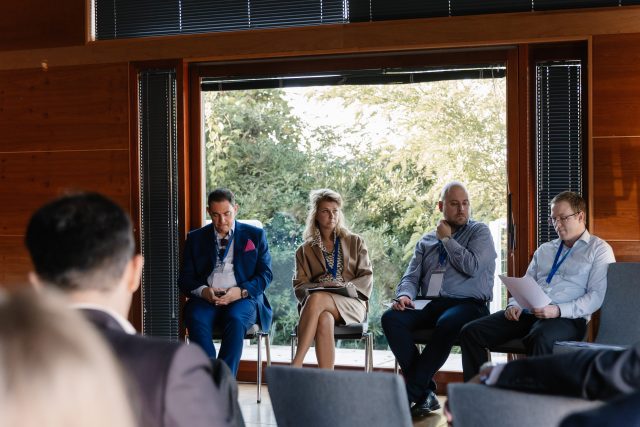 This year, Venice was the venue for the large autumn conference of the Consulegis Group, held on October 27th and 28th. The conference, which gathered over 150 participants from all over the world, was hosted by law offices, members of the Consulegis Group, Lavialti Avvoccati Associati and Izzi Toniatti Perron-Cabus Martini Studio Legale.
The two-day event was marked by focused meetings, panels and workshops, all aimed at networking and sharing the experience of Group members.
On the first day, after the welcome lunch on the roof of the Marriot Hotel, a series of round tables dedicated to current events in the legal sector was organized.
Topics covered were: litigation and dispute resolution, enforcement of foreign judgments, an overview of the latest trends and challenges in labor and immigration, commercial and trade navigation, the effects of sanctions against Russia and their impact in Switzerland, legal opportunities and challenges in the UK, as well as legal considerations in health care affairs.
The panel "Commercial and trade network in the open region of the Balkans" particularly attracted the attention of those present, which was discussed by Dr. Dubravka Kosić, partner of the law office K&F Advokati, a long-standing member of the Consulegis Group, presenting the results so far as well as the challenges of the Open Balkans initiative.
On the second day, panel discussions covered topics such as blockchain technologies, cryptocurrencies, IT and data protection, the development of cyber security legislation in the US and Europe, the new Swiss data protection law, human rights, equality and diversity, regulatory changes in Italy, legal developments in the US and Europe, as well as the latest trends in real estate and the environment.
At the same time, the participants had the opportunity to use their free time to enjoy the most interesting parts of romantic Venice and get to know its centuries-old history, impressive architecture, canals, people and gastronomy.
Participants agreed that the Venice conference was another invaluable knowledge exchange that adds to the collective expertise of Consulegis and intensively helps to strengthen the already deep relationships that the network has on a global level.
It has been announced that Dr. Fruhbeck Abogados SLP will be the organizer of the spring congress of the Consulegis Group, which will be held in Palma de Mallorca between May 3th and 7th, 2023.
See more about the CONSULEGIS autumn conference HERE.