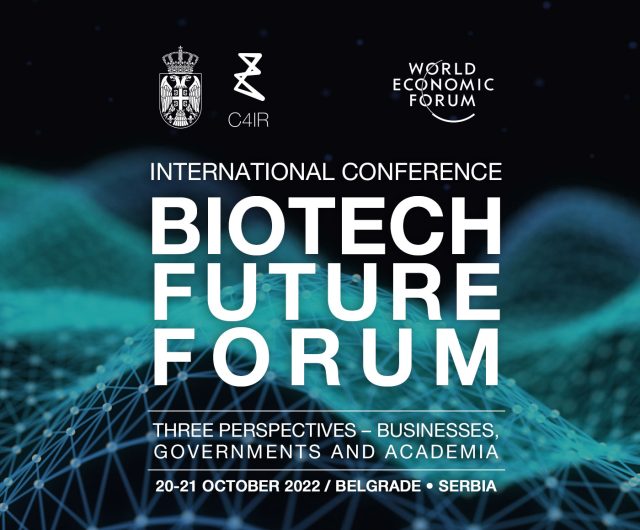 "Serbia is a leader in the region in the development of technology," said the president of the World Economic Forum Mr. Borge Brende at the opening of the first International Conference "The Future of Biotechnology" held on October 20th and 21st in Belgrade.
The event organized by the Government of the Republic of Serbia, in cooperation with the World Economic Forum, the United Nations Development Program and the Center for the Fourth Industrial Revolution in Serbia, was attended by over 600 participants from 20 countries from the three sectors of society that have the greatest impact on the development of biotechnology – public and private sectors as well as the academic community.
The diverse program included a national panel, four expert focus sessions, two plenary lectures and a presentation of the BIO4 campus, the new university center in Belgrade as an exceptional potential for investment in research and development projects in Serbia.
Except biotechnology, the topics of the conference, which was also attended by Dubravka Kosić, a partner of our law office, concerned bioinformatics, bioengineering, the use of data in the development of healthcare and biotechnology, the promotion of public policies and scientific achievements and the possibility of their application, especially in the field of medicine and healthcare.
The organizers announce that the "Future of Biotechnology" conference, whose goal is to encourage cooperation and exchange of knowledge and experience, aimes to become a place of regular annual gathering of the new biotechnology community in Serbia and its positioning as a country of new technologies, knowledge and innovation.
You can find out more about this year's conference on the official website: biotechff.gov.rs